Groom/e/s Y2K Gathering

Published by Groom cuzzies Network

Editor: Betty Gaulden Meadows

Volume 2.1. summer 2000
THE GROOM/E/S Y2K GATHERING VISION
At the 1999 Groom reunion of Needham York Groom's descendants, several cousins discussed their dreams of expanding the Groom reunion to include descendants of his siblings and to the ancestors and descendants of their parents Elijah Groom II and Elizabeth (Bryan) Pou. Their vision is for the reunion to grow to include Groom/e/s and Croom/e/s relatives from all across the country. Those meetings extended into the following week and months as the cuzzies began to turn that vision into reality - the Groom/e/s Y2K Gatherings.
GATHERS MORE CUZZIES
Even though we realize that the cutsey term cuzzie takes some getting used to - we decided to use it as a term of endearment and/or respect for living relatives - as a way for us to quickly distinguish them from the lists of names and discussions of deceased relatives. One of those newly-inspired cousins, Cuzzie Caroll Robison, was surprised to learn from the Groom Street Website that her great-grandfather Needham York Groom's descendants had been holding annual family reunions for many years - only a few miles from her home. Cuzzie Carroll found out about the 1998 Groom Reunion just in time to attend, and then she went back for the1999 reunion. Unfortunately, I learned the date of 1998 reunion just after it was over and had to wait almost a year to go to my first Groom reunion. Not only is your newsletter editor, Cuzzie Betty Meadows, a more distant cousin, but I also followed a rather lengthy path to learn that my GGG/grandmother was a Groom, too.
ASKING QUESTIONS
The search for ancestors will be quite a bit easier if you take the time to ask all of your older relatives lots of questions now. Since we have so many things to remember nowadays, be sure to write down the information and put it in a safe place - or better still record their answers and anecdotes. Even better than a tape recorder, set up a video camera to capture your visit with the older relative which will allow you to relive that visit again and again. Of course, you will think of questions you wish you had asked, but if it is not too late, you can go back and record another visit. However, if you missed that opportunity, make more opportunities by visiting other relatives. Unfortunately, I didn't ask nearly enough questions. (bgm)
Since they visited my grandmother several times a year, I knew both my great-grandpa and great-grandma Honea - but I never thought to ask them about their youth, childhood, or their ancestors. Whenever I asked my grandmother, about their early lives she said she guessed they were too busy working to talk about those things. The meager tidbits that she did offer were: her Papa was an orphan; he had family around Sarepta LA; and her Mama said that they were related to the country singer, Jimmy Dean. When I started researching, I found Ma's 'orphaned' Papa, Joseph Henry Honea, and his brother, Charlie Allen Honea, listed as grandchildren in the household of Townsend and Jane Honea on the 1900 census in Van Zandt County TX. Then, after finding Townsend's son Thomas Honea and his wife Georgia living near them on the previous census, I found a record of the marriage license issued to Thomas J. Honea and Georgia A. [May] Dean issued in 1879 at the courthouse in Canton (Van Zandt County) TX. That's how I made the Dean connection. But - what does that have to do with the Grooms?
MAKING GROOM CONNECTIONS
Another search of the 1880 Van Zandt County, Texas, census revealed that other neighbors, J.M. and Indiana Dean, were from Louisiana. No, I haven't yet found the connection to Jimmy Dean [nor to the famous baseball brothers Dizzy and Daffy Dean that many of the older relatives both in Louisiana and Van Zandt County tell us were our relatives]. When I found the Deans in Sarepta LA, Georgia's nieces disclosed that her mother Indiana was Indiana Cleopatra (Innie) Groom, daughter of Elijah and Elizabeth (Bryan) Groom. Then they told me about Innie's brother Needham York Groom and about his granddaughters (Loma and her sisters) who visited them in the 1970's. What a pleasant surprise it was to find her research posted on the internet! Thank you Cuzzie Loma and Cuzzie Sally!!!
Several of Elizabeth (Bryan) Groom's grandchildren had been told that she was related to William Jennings Bryan (WJB), but we haven't proven that connection yet. For quite a while I was a part of a Bryan Research Group and learned that Needham was a very prominent Bryan name. Many researchers have listed Lady Alice Needham as the wife of one of the early Bryans in the United States. However, the research group has documented another wife for that William Bryan and cannot find proof that there was a Lady Alice Needham connection. Some even said that they had found no record of any Colonial American named Needham. Yet, further research did turn up a map in the University of Texas map collection that shows that at least one Needham was in North America before 1675. The map shows the exploration route taken by G. Arthur and J. Needham (1673–1674) to the Cherokee villages, exploring the Chatatahoochee River to Cherokee villages, the Kanawha and the Ohio Rivers, and a return to the Cherokee villages. J. Needham then returned to Ft. Henry VA. (See internet address on page 7.) And that's all I've found about that. Now, won't you see what you can find to share with us.
FINDING NEW CUZZIES
Welcome our newly-found cousin: Betty Groom Gaines. Cuzzie Betty Gaines was making contacts and plans as soon as she learned about the Groom/e/s Y2K-1 Gathering from the newsletter mailed to her mother, Mildred (Johnson) Groom. She wrote: "Since my name does not include Groom in most listings, I suppose I got left out. Anyway, I have a copy now, so here goes. It is great to know that so many of us exist. My cousin in California has done rather extensive work on our family tree, and we are descendents of Elijah Groom and Cathering Herring, too. I will be bringing my daughter and my mother (Groom by marriage) and meeting cousins from Arkansas who also received your newsletter. We have passed on the information to many who, like I, no longer have Groom in their name listing. I will be sending my reservation money by Wednesday. Look forward to hearing from some of my relatives." Shortly after arriving at her first Groom/e/s Y2K Gathering Cuzzie Betty Gaines exclaimed, "I've never really felt a part of a group before - but here I feel like I've come home!"
MAKING MEMORIES
Our Groom/e/s Y2K-1 Gathering, held 17-19 March 2000, was coordinated and put together by cousins, Carroll Robison, Rudy Groom, Estle Groom, Wedsel Groom, and Genevia Groom Sprague [et al]. Cabins were available for those who had traveled a long distance, or just wished to spend the night. The cooking staff at the camp prepared three delicious meals. Lots of cameras were on hand to take pictures of cousins. Registration began Friday afternoon. Saturday was spent visiting, gathering genealogy, and sharing pictures. A good ole' time gospel singing (group, quartets, trios, duets, and solos) was a special treat on Saturday night. Wedsel Groom directed the music, and his sister, Jeanie (Groom) Maddox, played the piano. Rev. Odell Grooms (Sonny Boy to his cousins) flew in from Lynchburg VA to conduct the church service on Sunday morning. Once again, the Groom cousins lifted their voices to "Praise God From Whom All Blessings Flow."
The oldest cousin present was 94-years-young Loma Harrison. Aunt Loma, a retired teacher with a double major in elementary education and music, bought her first computer four years ago and has been instrumental along with her niece, Sally, in making the Groom website happen. "Thanks to you, Aunt Loma" from your Groom family cousins. See the wonderful snapshot of Aunt Loma and her first cousins Wilma (Groom) Chamblee and Geneva (Groom) Sprague at the reunion section of our Groom Street Website. (from Mike Wright's article)
PLANNING THE NEXT GATHERING
Timberline Baptist Church Campgrounds at Lindale TX is a beautiful place set back in the piney woods of East Texas. It was decided to meet at the campground again next year - for the Groom/e/s Y2K-2 Gathering. Cuzzie Carroll wrote: " We had a wonderful time, even though our numbers were less than we had hoped. (Sorry we were unable to get our first newsletter announcement out earlier.) It was a very uplifting and warm time to visit and get to know each other better. We have so many talented cousins and have been blessed by God as a family. The camp grounds were beautiful and peaceful." Cuzzie Glenda (Groom) Pior says that is why their family gathers there each spring for her mother's birthday. Aunt Loma said the grounds kept reminding her, He Leadeth Me Beside Still Waters. He Restoreth My Soul.
This year we learned that our relatives seemed to be more interested in visiting and working on genealogy than in some of the other activities. Between 75 and 100 people attended the Y2K-1 gathering, and that number is hoped to double next year. After all, this time we have enough time to arrange schedules - and we learned that the prices are only 1/2 of what was previously quoted to us. The price of a room and five (5) meals for the weekend is only $85/single or $75/per person for double occupancy. Since we paid for rooms that had been reserved for people who didn't show up, this year we must ask for a commitment from you. A deposit of $37.00/person must be sent with your reservation. And - the 32 rooms that have been reserved for 23-25 March 2001 are going fast. Several sent word they could not come in 2000, but definitely plan to be there in 2001. Sorry, your deposit can be returned only if someone else takes your room. Even though Treasurer Rudy (Shang) Groom hopes we can keep expenses less than income, Cuzzie Shang says that all of the expense and effort put into the Groom/e/s Gathering is worth it - if we only find one more cousin. [Especially when that cousin brings a lot of Spirit, energy, and information. ;-) ]
SHARING RESEARCH
NEW CUZZIES. Cuzzie Betty Gaines' cousin in California who has done extensive Groom research is Ruth Warner. A summary of that research was already in the files of your newsletter editor. Cuzzie Betty Meadows had gotten a copy of Ruth's outline descendancy chart from one of her friends who married a Groom who is their cousin. See how intiguing - interesting - surprising - and rewarding - it is to make family connections! Watch future newsletters for that story and a transcript of the documentation Ruth shared with us. Cuzzie Ruth also sent the following corrections to our first newsletter.
CORRECTIONS. The marriage bond for Elijah Groom and Catherine Herring (naming her father Stephen Herring) was dated 4 August 1777 [not 1776]. The will of Stephen Herring Groom (ancestor of Betty Gaines, Ruth Warner, and the newsletter editor's friend's husband) was dated 3 May 1833 and probated 24 August 1833 [not 1888].
Groom Y2K-1 Gathering Photo (Middle Section)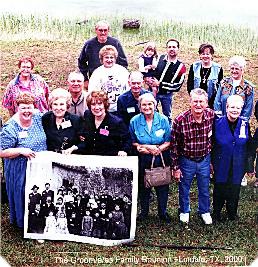 FAMILY PUZZLE. How many of these Groom cousins can you identify? Stumped? Here's some options: Work with a cousin. Visit our website. Groom family in b & w photo are identified there. Wait for the next newsletter.

GROOM/E/S GENEALOGY

GENERATION 1: Elijah Groom I (1757-1804 NC) and Catherine 'Catey' Herring (~1760-1814 GA)
Groom researcher Joe Groom of Tampa FL believes that Elijah Groom is the same person as Elijah Croom, who served in the State Militia of North Carolina and married in North Carolina in 1777 to Catherine 'Catey' Herring d/o Stephen Herring and Sarah Bright. Both those surnames carry forward in the names of Elijah's sons Stephen Herring Groom and Bright Marshall Groom. Elijah and 'Catey' moved to Georgia between 1790 and 1800. 'Elijah Croome' was granted 430 acres of land in Washington County GA (1804 Grant Book EEEEE, p. 766). The Washington County GA grantee index (Deed Book H 5, pp. 59, 200) shows grants of 200 acres in 1810 and 100 acres (undated) to heirs of Elijah Groom. The same reference shows 381 acres granted to Jesse Groom in 1811.

Interestingly, Croom researcher John Croom notes that records of a couple of Elijah Croom's offspring (who ended up in KY and TN rather than in AL) reflect that these Croom/Groom families became Grooms. Today, families in TX who spell their names Groom and Grooms can both be traced back to the same North Carolina ancestor: Elijah Croom who moved his family from Wayne County NC to Washington County GA around 1790. Elijah died about 1804 and somehow the records started reflecting the name of his widow and children as Groom rather than Croom. (For more information, use John Croom's internet address on page 7.)

GENERATION 2: Children of Elijah Groom I (1757-1804 NC) and Catherine 'Catey' Herring (~1760-1814)


We believe that Charles belongs in the list of children of Elijah and 'Catey' Groom. It is believed that Charles was born about 1787 in Duplin County NC, married before 1807 in Duplin County NC, and died about 1851 in Wilcox AL. Charles Groom's wife Mary was born about 1790 and died about 1845 in Wilcox County AL.

Children: 2-1. Betsy, 2-2 Mary m. Lewis Miller, 2-3 Priscilla m. Henry Putnam, 2-4 Council m. Elizabeth Loftin, 2-5 Charles m. Mary (unknown), 2-6 Bright Marshall m. Katey Winders, 2-7 Stephen Herring m Winifred Winders, 2-8 Jessie, 2-9 Wiley, 2-10 Zelpha m. Arthur Junior Crumbley, and 2-11 Wright Groom 1 Melvina (unknown) and m2 Martha Richardson


GENERATION 3: Grandchildren of Elijah Groom and Catherine 'Catey' Herring
FAMILY CAPTAINS ARE NEEDED first for each of their children's lines and then for their grandchildrens' lines.
Family Captains would maintain and share addresses of cousins in their branch and forward notices to their lists.
Family Captains would be or be in close contact with the primary branch researchers and the reunion committee.
Family Captains would try to enlist sub-captains for each line in the next generation of their branch.

Children of 2-5 Charles and Mary (unknown): 3-1 Elijah and Elizabeth (Bryan) Pou, 3-2 Nancy and William Snow, 3-3 Lucy and ----- Brantley, 3-4 Sarah, 3-5 William E. and Elizabeth Rhoads, 3-6 James, and 3-7 Henry Groom and Sarah Branchman

Children of 2-7 Stephen Herring Groom and Winifred Winders: 3-1 Major G. m. Mary Pope.; 3-2 Charles L. m. Catherine; 3-3 Adaline m. Hardiman Pope; 3-4 Bright; 3-5 James Marshall m. Nancy E. Carlton; 3-6 Reason Edward m1 N. A. Birdwell, m2 Nancy Harriett Riche; 3-7 Susan C. m. J.W. Luallen; and 3-8 Lafayette Groom

GENERATION 4: Great-Grandchildren of Elijah Groom I and 'Catey' Herring.

[Our (Van Zandt County) TX line would be the grandchildren of Charles Groom and Mary (birth name unknown) and the children of Elijah Groom II and Elizabeth (Bryan) Pou.] As noted previously, some researchers do not include Charles as a son of Elijah Groom I. Definite proofs are needed - but we think he fits here because 1: Charles named his first son Elijah (after his father? Elijah I?); 2. Charles Groom would fit into the gap left between the children shown by most researchers as the children of Elijah Groom and 'Catey' Herring; and 3. In 1818 Charles was made guardian of Wright Groom (orphan of Elijah). The guardianship was filed 1/13/1818 in the Jones County GA Ordinary Minutes, p. 157. At that time, Wright would have been 16 and able to choose his own guardian, and his brothers, Council, Bright Marshall, and Stephen Herring Groom had moved to Kentucky and Tennessee. The 1824 Jones County Ordinary Minutes, p. 101 show that the Court Copy of the Bond given by Charles to secure his guardianship of Wright Groom was returned to Charles Groom [after Wright turned 21]. (Aunt Loma's research)

Wright Groom was enumerated on page 202 of the Montgomery County AL 1840 census, on page 145 of the Montgomery County AL 1850 census, and on page 231 of the Montgomery County AL 1860 U. S. Census (USC). Charles Groom was enumerated on the 1810 Washington County GA, on the 1820 Jones County GA, on the 1830, 1840, and 1850 (page 391) Wilcox County AL census. A Wilcox County history shows that Charley Groom, an early settler near Snow Hill in Wilcox County, was buried on the Alexander place. It also shows that Charley Groom's daughter Nancy married William S. Snow [Jr. or Sr.]. WJB's uncle Dr. John Jennings buried at Snow Hill.

GROOM RESEARCHERS ONLINE

Numbering system used for these partial family trees: Generation-Birth Order

Another shortcut often used is (County Name) in parentheses which saves space and is easy to spot.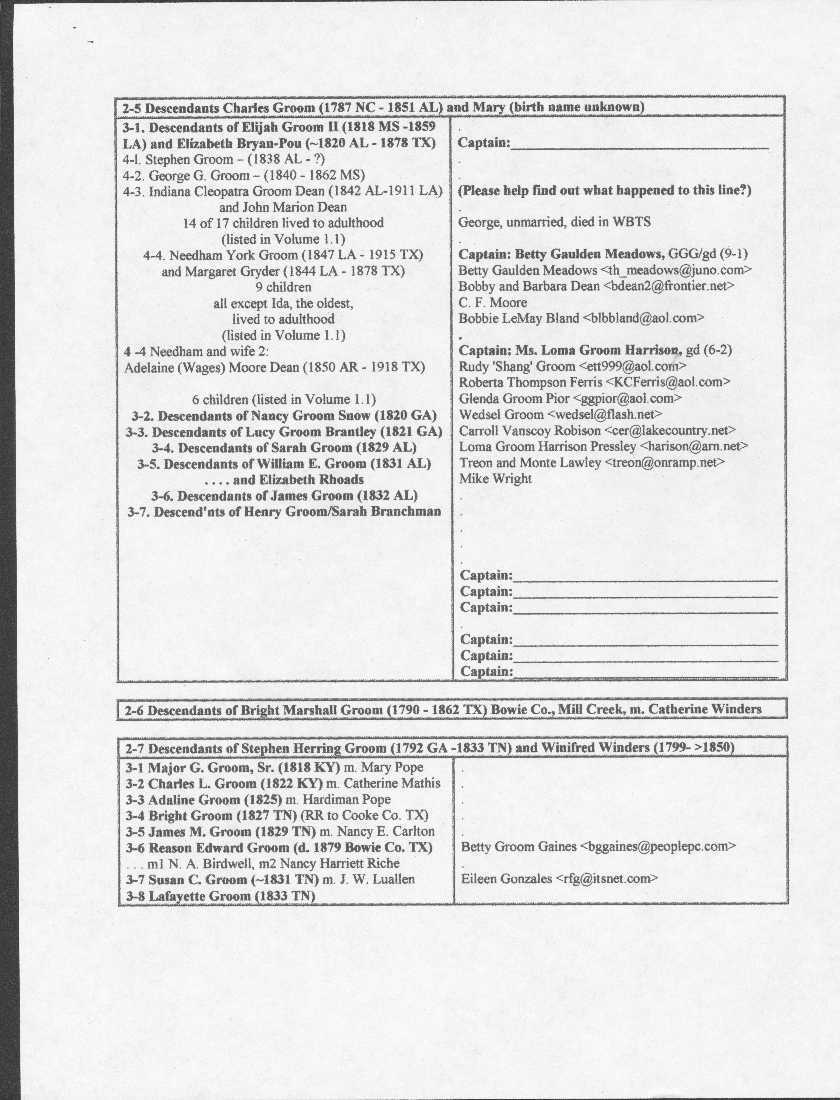 SHARING RESPONSIBILITY
This year, several of the younger Groom descendants dove into family research. Many took advantage of and enjoyed the memory book class. Cuzzie Mike Wright took a lot of great photographs. Some of his photos and the article he wrote was published in the Canton Monitor and on our website. If you don't have internet access, visit a cousin who does and get them to access it for you.
Several cousins from the younger generation were also elected "officers-in-training" to take over some of the jobs for Gathering Y2K-3 in 2002. Those new officers will be: Carroll Robison, President; Gary Pior, Vice-President; Roger Groom, Treasurer; Betty Gaulden Meadows, Secretary/Newsletter Editor; Sally Groom Hummer, Webmaster; Glenda (Groom) Pior, Chairperson Co-Ordinator; Loma Groom Harrison, Family Researcher; Betty (Groom) Gaines, Family Historian; and Odell (Sonny) Groom, Family Chaplain.
CELEBRATING GROOM CUZZIE CURRENT EVENTS
BUDDY GROOM STADIUM DEDICATED. A standing-room-only crowd of family, friends, and supporters gathered for the official ceremony on 20 May 2000 naming Red Oak High School's Baseball Field "Buddy Groom Field." Buddy, a relief pitcher for the Baltimore Orioles, played all four years of his athletics at ROHS. During off season, he spends a great deal of time working with the high school baseball team and gives much of his time speaking to students about the dangers of drugs and alcohol and the importance of staying in school. Several special guests had many kind words about Buddy, and representatives of the US Postal Service unveiled a beautiful new sports stamp at the dedication. A beautiful monument marker and a new flagpole for the American Flag and white and maroon flag will fly over the new Buddy Groom Field during the Hawks home games. We're proud of you too, Cuzzie Buddy, but not quite as much as his parents Wedsel and Wanda Groom are.
JOHN MARION AND INNIE (GROOM) DEAN REUNION. On 27 May 2000, about 50 of Indiana Cleopatra (Groom) Dean's descendants gathered in Sarepta LA for their annual Dean reunion. An impressive ceremony dedicating the Confederate marker for John Marion Dean (Pvt., Co. G., 12th Louisiana, C.S.A.) was held near the Dean family plot in the Blocker Chapel Cemetery. His oldest living female descendant, Tura May (Dean) Rice, was presented a flag, and his youngest female descendant present was given a single red rose. Four of John and Innie (Groom) Dean's grandchildren were listed on the last Groom Octogenarian Club. Another granddaughter, Cuzzie Ruth was quick to note that she was over 80, too, and had been left out. Note: Cynthia Ruth (Dean) Willard, born 1917, has now been included in the Groom Octogenarian Club.
Groom OCTOGENARIAN Club
Let us know names, birthdates, and addresses of others who may have been left out. Sharing information, proofs, documentation gives each of us more time and resources to find more pieces of the Groom family puzzle and to document more of our family connections. Our most valuable resources are our older relatives. Octogenarian Cuzzies Tura, Velma, and Ruth enriched the Dean Reunion, as did several of the others at the Groom Y2K-1 Gathering. Thanks for sharing your vision and memories!
Loma Groom Harrison (born 1906), daughter of Short Groom, granddaughter of Needham York Groom
Myrtle Tankersly Groom (born 1909) wife of Augustus Groom's grandson Truman Bailey Groom
Zell D. Dean Alfred (born 1911) granddaughter of Indiana Cleopatra Groom Dean
Tura May Dean Rice (born 1912) granddaughter of Indiana Cleopatra Groom Dean
Vinita Groom Umphress (born 1912) - daughter of Jessie Lee Groom
Gladys Heddin Groom (born 1913) - widow of Rev. Harley Lee Groom
Ola Mae Honea Meadows (born 1913), great granddaughter of Indiana Cleopatra Groom Dean
Hattie Groom Gillispie (born 1913) daughter of Alex Groom, son of Needham York Groom
Marlin Alexander Groom (born 1914) - son of Alex Groom, son of Needham York Groom
Herman Robert Elliott (born 1914) - grandson of Indiana Cleopatra Groom Dean
Velma Dean LeMay (born 1915) - granddaughter of Indiana Cleopatra Groom Dean
Lillie Thompson Crabree (born 1916) - granddaughter of Robert Lee Groom
Alpha Groom Lunsford (born 1916) - granddaughter of Alex Groom
Cynthia Ruth Dean Willard (born 1917) - granddaughter of Indiana Cleopatra Groom Dean
Edith Goom Liddell (born 1919) - daughter of Alex Groom
GONE TO GLORY
James Needham Groom (25 June 1911 - June 2000)
Send your thoughts and prayers for the families of his loved ones: daughter Sally Hummer,
sons Jim and Charles, and his dear sister, Loma Groom Harrison.
GROOM INTERNET CONNECTIONS
Groom Street: Webmaster Sally Hummer <http://www.members.tripod.com/~GroomS/index-3.html>
Groom Surname: Geneva Groom Evans <http://angelfire.com/mo/groomsfamilypage/surname.html>
Stephen Herring Groom: Ron and Eileen Gonzales: <http://members.efortress.com/ewg/DescOutline.htm>
Check out Ron and Eileen's Herring pages: <http://members.efortress.com/ewg/herring.html>
Groom Family: Janis Weatherly: <http://www.angelfire.com/mo/groomsfamilypage/links.html>
Elijah Groom (I): Melba Gandy <http://www.angelfire.com/mo/groomsfamilypage/zilpha.html>
Croom Genealogy: John Croom <http://members.aol.com/crooiii/croopage.htm>
Herring Families of North America: John Croom page #9 at previous address
Map showing J. Needham exploration:
http://www.lib.utexas.edu/Libs/PCL/Map_collection/united_states/Exploration_before_1675.jpg
GROOM CUZZIES NEWSLETTER
Our current plan is to publish three newsletters a year – a Fall edition emphasizing Groom genealogy and Groom happenings, a Winter edition emphasizing plans for and registration for the March reunion, and a Summer edition with reports from the Spring reunion. We plan for the newsletter to include:
Groom Family Activities
Websites, Books, etc.
Births, Deaths, and Prayer List
Octogenarian Club
Genealogy Tips
History of the Groom/e/s
About your Groom relatives
. . . family stories
. . . old photos with people identified
. . . old photos you hope someone can identify
Researchers and the lines they are researching
Queries - and hopefully their answers
Please send information on any of these topics and your QUERIES to the newsletter or our Groom Street Website.

Please send transcripts of any corrections, copies of documentation, additional information, and other Groom researcher's addresses (snail-mail, e-mail, and phone numbers) you have to our Webmaster Cuzzie Sally Hummer at the Groom Street Website <

http://members.tripod.com/~GroomS/index-3.html> or to the newsletter editor, Cuzzie Betty Gaulden Meadows, 709 Branch Drive Garland TX 75041-4475. Remember, Cuzzie Betty is better at answering e-mail messages sent to: <Th_Meadows@juno.com>.

There was no charge for the first mail-out newsletter - or for newsletters sent by e-mail. This simpler one-column format works better with a greater variety of e-mail programs and makes e-mail transmissions easier. Shorter line lengths and thus wider margins leave more room for your notes. The fancier version of the newsletter will also be available online on the Groom Street Website. The subscription price for Volume 2 newsletters will be $9.00. To subscribe or to order back issue ($3/issue), send payment to Cuzzie Carroll: Groom Cousins Network, 14288 CR 434, Lindale TX 75771. Send Groom Gathering Y2K-2 reservations ($37 per person) to her too.

GROOM/E/S Y2K GATHERING Officers

| | | | |
| --- | --- | --- | --- |
| Office | Groom Cuzzie | E-Mail or Fax | Phone |
Groom Cousins Network
14288 CR 434
Lindale TX 75771
GROOM/E/S Y2K-2 GATHERING SPONSORS
East Texas Truss Co., Inc., P.O. Box 1609, Mabank TX 75147
Groom & Sons Hardware & Lumber, Inc., P.O. Box 1150, Mabank TX 75147
Wedsel Groom Agency, P. O. Box 10, Red Oak TX 75154